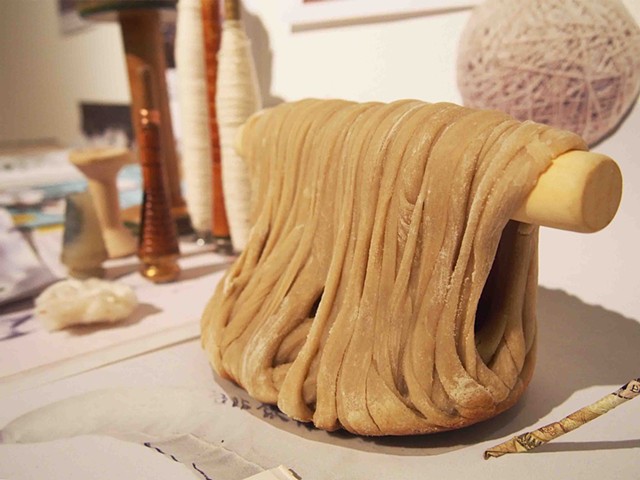 Chapter II- – Mill, Coal, Canal and Worker (Manchester)
Cotton, cotton cloth, thread, photography, bank note, chew toy, charcoal, paper, mixed media
Dimensions Variable
2018
The concept for the Cotton Research Project is not just about material, it is about the links between: The past and the present, agriculture and industry, life, death, trade and migration. Textiles are being presented as a world language and evoke questions about our economy systemic and natural environment. This project relates to the development of the global materials industry and how the modern consumer culture today is affecting traditional culture.
Chapter II of her research is based in Manchester. The humid weather in Manchester was a predominant factor in the cities past transformation from a normal English town to an industrial powerhouse and initiated the industrial revolution. Rain is an Iconic part of Mancunian life and although it could be seen as melancholic it has allowed for the effective spinning of cotton. In this work spinning is not just a technical action. It is a metaphor for turning around and around. How could we keep the balance without creating too much tension?
I am not only interested in the process and history of cotton mills per se, the project is a vehicle for 'spinning the yarn' to extend the imagination and awareness about the life we are living in. This work is moving with the times and referencing the cities transition from an industrial past to a postindustrial future. Textiles and threads here are not stitched create the borders; they are woven to eliminate boundary, create connection and encourage dialogue.
The project is part of the artist residency project in CFCCA, Manchester, UK